Follow America's fastest-growing news aggregator, Spreely News, and stay informed. You can find all of our articles plus information from your favorite Conservative voices. 
---
The Babylon Bee has done many satire stories making fun of liberals, but I don't believe any of them is as funny as this one that shows what it must be like for the spoiled employees face in the real world and it isn't pretty. Elon Musk has done away with about half of the Twitter employees and has quit providing the employees with free gourmet meals and free wine. The average salary at Twitter is over $100k a year.
Recently, Musk has explained to the remaining employees that they must come to the office and they must be ready to work hard or find other employment. Unbelievably, many are opting out to find other employment. All of the tech companies have huge layoffs planned and they have no need for the Twitter Karens. They might find other work, but for less than half of what they are doing now.
In the video, a young girl is applying for a real job and she is surprised by what she won't get. The video is done in an interview format between the former Twitter worker and the person doing the interview to fill positions within his company. I have watched it twice already and I intend to watch it a few more times. What makes the video funny is that you can see this actually happening.
First off, she's 20 minutes late. Her excuse? At Twitter there were no "start times," she replies, using air quotes. Plus, schedules are simply a "remnant of an oppressive, colonialist regime," she adds to the blue-collar guy interviewing her.
When he informs her that the "work here is pretty demanding," Mandy suddenly starts breathing into a brown paper bag and explaining that she's just not used to bosses using "trigger words" like "demanding, inspect, and work."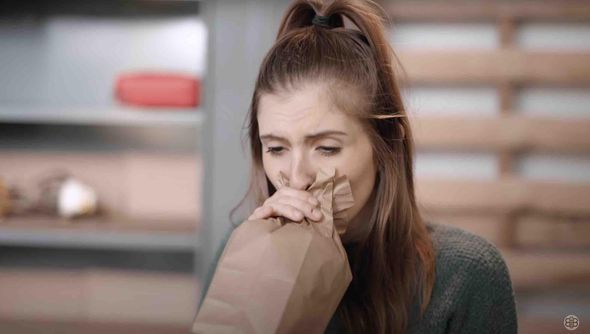 Image Source: YouTube Screenshot
The interviewer pushes back that the employment opening is for a "job," after which Mandy pleasantly admits that they never used that word, either, at Twitter.
"I was a content moderation specialist," she replies. "Some days during my afternoon cornhole sesh, I'd get a text telling me I had to ban someone." Turns out Mandy didn't have to actually go to her work computer to bring the ax down — all it took was a press of a button on her phone, and then "bam!"
"Babylon Bee? Banned. Libs of TikTok? Banned. Steve from Fruitport, Michigan, you know he banned [sic]," she recounts. "And then back to cornhole."
Asked what else she did at Twitter, Mandy joyfully replies that she "drank like a sailor."
Mandy said:
"They had wine on tap, mimosas, a full microbrewery."
She then said that they had Alcoholics Anonymous there also. "One day at a time."
"You don't actually, like, expect me to come into the office, do you?"
The interviewer told her that she would have to come in to do her job and Mandy said that could very well be a deal breaker. Then she was told that there would be no meditation rooms, gurus on site, or non-GMO and cage-free shrimp. That was too much to bear and she told the interviewer:
"I'm sorry, We've decided to go in a different direction."
Great news Mandy. McDonald's provides free food. Want an application?