The red wave became a red drip and we may not even take the House. Corrupt officials are dragging the process out in hopes of manufacturing enough votes to steal as many of the elections as they possibly can. But, there is one thing we need to do that corrupt officials cannot stop. It is commonly known as addition by subtraction. Kevin McCarthy and Mitch McDonnell must leave leadership immediately. They can walk or get tossed. It doesn't matter which.
Those two will surrender to the Democrats days before the war even starts. We saw that with John Boehner and Paul Ryan. If those two keep their jobs, the election will end up meaning nothing and Democrats will make those two fold like a cheap roadmap.I would love to see Jim Jordan become Speaker of the House, but I don't think we will ever see that. Ted Cruz would be great for GOP leadership in the Senate, but he has too many enemies because he does not hold back. Mike Lee could maybe get elected.
Some say we can't get rid of Mitch McConnell because he raises so much money. And he does. It's how he spends it that is the key and one of the main reasons he has to go. He sent $7 million dollars to Lisa Murkowski and nothing to Blake Matthews. Financing RINOs will not save this country. We need rock-solid conservatives. Whether Donald Trump returns or if Ron DeSantis wins in 2024, we need conservatives in Congress who will back them up.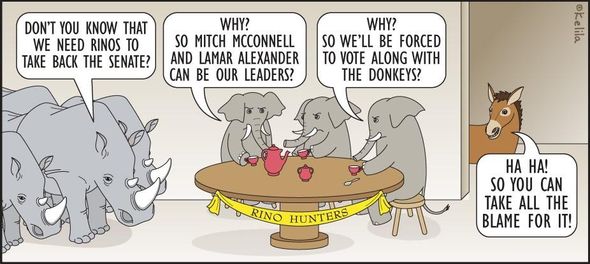 Daniel Horowitz wrote:
It's deja vu all over again. I have more gray hair and a few more kids, but it's like nothing has changed since the last big GOP win 12 years ago. My wife made this political cartoon for a column of mine during the "Tea Party wave" election of 2010 to accentuate the point that there is no purpose in winning an election to empower leaders who believe in handing the ball of power to the defeated team on every issue that matters. Here we are 12 years later, and McConnell is still at the helm of the party, even as he stands against conservatives on every issue that matters.
Likewise, Kevin McCarthy was the House GOP whip at the time of the Tea Party, and he has overseen the failed GOP bouts in the majority ever since as both majority leader and whip. Now he wants a promotion after failing to deliver on a "first and goal" play this election. Will conservatives ever learn to clean up their own yard before focusing solely on the Democrats?
Kevin McCarthy has already promised that Joe Biden the most dishonest person ever to sit in the Oval Office will not be impeached. Why the hell not? Just the way he opened the borders and let 5 million invaders into the country is reason enough to impeach him. And believe me, there are many more reasons than that. Such as how he helped Hunter use his influence to cut deals in countries that hate us such as China.
Mitch McConnell is a man who believes that funding the corrupt WEF-backed Ukrainian government is the most important policy issue of our time. He paved the way for the greatest legislative victory of the Biden administration and has agreed to pass an omnibus bill in the lame-duck session, which will undercut the leverage of a new GOP House majority for an entire year. He even voted to give the FBI billions of dollars to "red flag" political opponents in the first gun control bill to pass in years. To top it off, he spent millions of dollars defending Lisa Murkowski against her conservative opponent in Alaska after she voted against Trump's Supreme Court nominee, Brett Kavanaugh.