If you need proof that Joe Biden suffers from dementia, you need not do more than listen to him explain how his presidency is the greatest of all time. He brags about lowering inflation from 8% to just 4%, but let me point out that is still the second highest inflation in the last thirty years.
And we didn't see a rollback in last year's inflation numbers. Meanwhile, pay raises aren't even making up for the skyrocketing prices.
I wonder if Biden really thinks his economic plan is actually working. Does he really believe he has secured the border? Is his foreign policy earning this country's respect around the world? Has he ever implemented anything that benefits American citizens?
No, and do you know why? We can't afford to pay him a bribe of ten million dollars. If people would stop one minute and be totally honest when they compare the Trump economy to Bidenomic, Joe would be lucky to get 81 votes let alone 81 million votes.
Thanks to Bidenomics, we're restoring the American dream. pic.twitter.com/zhqyxlaQ8n

— Joe Biden (@JoeBiden) August 10, 2023
CNN destroyed Creepy Joe's argument. When CNN destroys a Democrat, you know things must really be getting flushed down the toilet. Biden claims he can fix anything, but like all Democrats, he can't even fix a sandwich. Why do you think they invented wraps?
Inflation is cooling but there's been a snowballing effect from two years of price spikes.

Moody's Analytics @Markzandi finds that the typical US household is spending *$709* more per month than two years ago — on the same goods & services. More with @brikeilarcnn pic.twitter.com/YoAw8IkzpR

— Matt Egan (@MattEganCNN) August 11, 2023
Business reporter Matt Egan explained the results from Moody's Analytics' Mark Zandi, that the typical US household is spending $709 more each month than two years ago. This is based on the exact same goods in the exact same quantity. You know that number is accurate as credit card debt hits a new record. People are having to go into debt in order to maintain the same lifestyle.
On top of that, interest rates have been jacked up to try to cool the rampant inflation that Biden helped to make higher with his rampant spending. They're at a 22-year high. So, we're paying more for everything that way as well, and that's making it very hard to do things like buy a house when you consider what you might now have to pay with the rates.
We saw Fitch just downgrade us for only the second time in history. The first time was under Obama/Biden. So, Biden has been in the mix both times.
That doesn't sound like "restoring the American dream." Indeed, it sounds like he's doing everything he can to kill the American dream. Not to mention making us beholden to and at the mercy of foreign governments with his bad energy policies.
This perhaps explains why his poll numbers, particularly on the economy are so bad — because this is continually hitting people right in the wallet. As CNN's Harry Enten says when you look at his approval on the economy, "It stinks."
The typical American household spent $709 more in July than they did two years ago to buy the same goods and services, according to Moody's Analytics. https://t.co/ij5PVGa2rK

— CNN (@CNN) August 11, 2023
Here is bidenomics at work for you!! ???? https://t.co/l46Q2waJZo pic.twitter.com/7YOOyautbX

— Nicole Macallister (@nicolemac72) August 11, 2023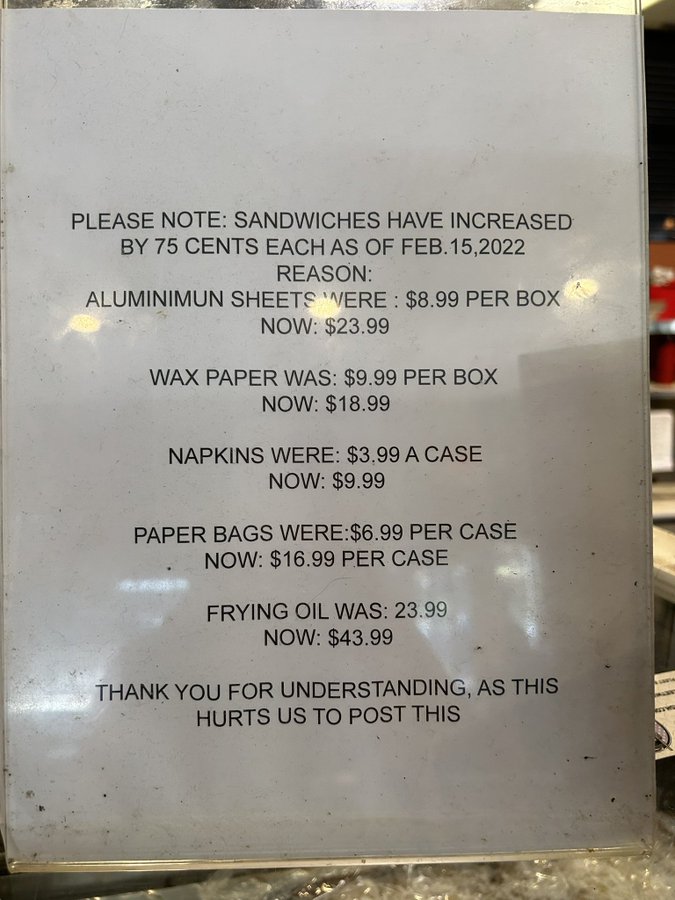 Thanks to Bidenomics, we're restoring the American dream. pic.twitter.com/zhqyxlaQ8n

— Joe Biden (@JoeBiden) August 10, 2023
While CNN is terming inflation as having "cooled," as we reported, it took an uptick from June. So yes, it's cooled from the highs of 2022, but it just went up again and it's still higher than what it was when Joe Biden came in. And we're all still spending a lot more. Energy prices were also up—something we're again seeing reflected in the gas prices, which have ticked up again.