The DHS had to shut down the Ministry of Truth before it got started, but they are thanking their lucky stars for Mark Zuckerberg and Facebook.
The Biden caliphate has a direct line to Facebook from which they can tell them what posts and sites they want to be closed down.
No need to worry though. We can trust the Biden Government, right? Don't answer. That was a rhetorical question. We already know the answer to that.
DHS Secretary Alejandro Mayorkas told the Senate Homeland Security and Governmental Affairs Committee:
(DHS announced plans for a Disinformation Governance Board to) "develop guidelines, standards, and guardrails to ensure that the work that has been ongoing for nearly 10 years does not infringe on people's free speech rights, rights of privacy, civil rights, and civil liberties"
That includes a portal leading to Facebook that is only accessible to government and law enforcement representatives to formally request the platform, kill or label alleged misinformation, according to the Intercept. A leaked set of instructions was posted at facebook.com/xtakedowns/login.
According to the Intercept:
"Platforms have got to get comfortable with gov't. It's really interesting how hesitant they remain."
The US government has discussed for years the scope and scale of online content moderation the government should engage in. Also, how to compel social media to go along with them. That currently isn't a problem since Facebook works in partnership with the Biden Administration. Missouri Attorney General Eric Schmitt has sued over the influence social media has afforded the federal government in censoring sites and individuals.
The proposed Ministry of Truth: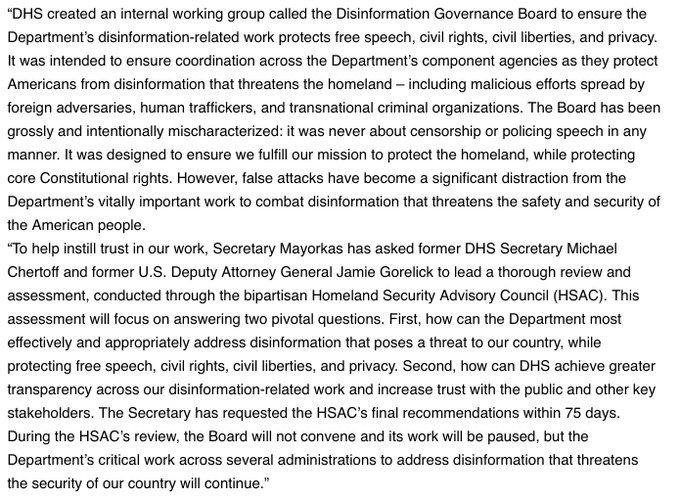 While the document highlights counter-terrorism as DHS's primary objective, it acknowledges that "misinformation and disinformation spread online" can exacerbate terrorist threats from "domestic violent extremists," according to the Intercept. It calls for DHS to use advanced computer analytical software and hire experts "to better understand how threat actors use online platforms to introduce and spread toxic narratives intended to inspire or incite violence."
"No matter your political allegiances, all of us have good reason to be concerned about government efforts to pressure private social media platforms into reaching the government's preferred decisions about what content we can see online," Adam Goldstein, the vice president of research at the Foundation for Individual Rights and Expression, told the Intercept.
Agencies under DHS — Customs and Border Protection, Immigration and Customs Enforcement, the Science and Technology Directorate and the Secret Service — all have directives to combat misinformation online, the Intercept reported, citing a DHS Inspector General report from August.
Meta and DHS did not immediately respond to the Daily Caller News Foundation's request for comment.
Don't look for censorship to end any time soon, except on TRUTH Social and Twitter. That is until the Biden regime decides to crack down on free speech on social media through some mandatory Executive Order. The Biden regime depends on lies in order to stay afloat and it has been the fact that the House and Senate have been in Democratic control that has allowed that to happen.
Meanwhile, Biden is touring the US and telling everybody how great his economy is. He has to tell them otherwise how would they know? Certainly not by how far their paycheck goes.