The red wave in Arizona has arrived late, but at least it has arrived. Kari Lake was down by a wide margin to Katie "Debates Scares me" Hobbs.
Then a strange or maybe not-so-strange thing happened. 55,000 votes came in from Maricopa County and Lake took about 70% of them.  Lake is now a mere .6% behind when the counting stopped. There are over 800,000 more votes to count.  Abe Hamadeh has pulled ahead in the AG race!
We do not know if masters and Finchem will be able to come back, but we do know that all of the remaining votes in Pima country come from Republican districts.
That bodes well for the Republicans on the ballot and should Masters win, it could hand the Senate to the Republicans. It should definitely help both Lake and Hamadeh to take comfortable leads. The once seemingly runaway voting for the leftists has turned into a nightmare. Remember Trump closed in the final days of counting by 100,000 plus votes.
The Democrats wanted it to look like their candidates were running away with an election in the once solidly red state of Arizona. Tabulators weren't working, but only in Republican areas.
That chart came out before Hamadeh yanked the lead away from Kris Mayes.
UPDATE: Karin is now only .2% of the vote with 33% more votes to count.
Choices

Total Votes

% Votes

Abraham

 Hamadeh (R)

896,830

50.1%

Kris

 Mayes (D)

892,691

49.9%
Both Blake Matthews and mark Finchem have gained ground, but it is not known if it will be enough for the wins in their respective races.
"We will take the victory when it comes. And we will turn this state around!"

Watch @KariLake's full speech at the election night party! pic.twitter.com/cDgNDLcIbZ

— Kari Lake (@KariLake) November 9, 2022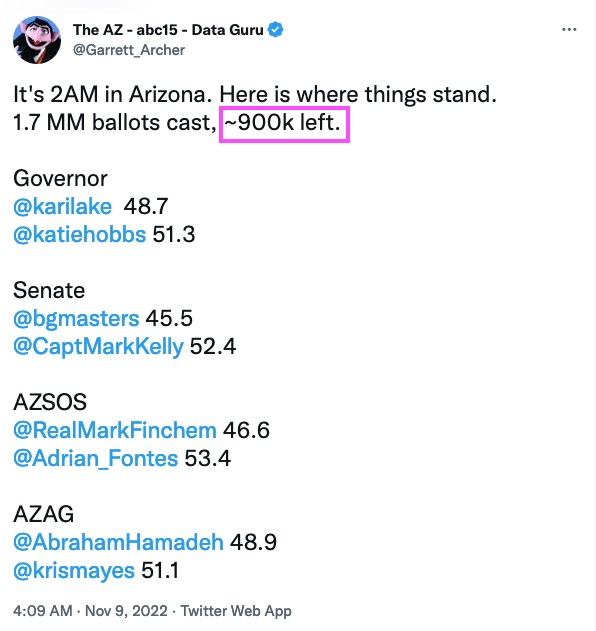 Currently the line at Deer Valley Airport to wait for the TABULATORS. Poll workers encouraging people to use the drop boxes. NOBODY IS LEAVING. Wait times are close to 2 hours to scan your ballot. #RedTsunami2022 @KariLake @AbrahamHamadeh @RealMarkFinchem @christianllamar pic.twitter.com/UwM0LN47az

— James Blanchard (@_chinfullofwin) November 9, 2022
The fake news, tech giants, Democrats and our elites want us to believe that a solid red state switched to the Democrat Party in 2020 and then after 2 years of complete disaster and a wide open border, Democrats came back to sweep the state for the first time ever?
Because Arizonans LOVE open borders and fentanyl!
Katie Hobbs refused to debate Lake and that hurt her in the polling.
If Katie Hobbs loses, remember Oct. 12 – the day she ran away from confronting Kari Lake.
Democrats in Arizona are known for snatching defeat from the jaws of victory, but Hobbs' refusal to debate her opponent on Wednesday represents a new level of political malpractice.
It's right up there with David Garcia, who while running for governor in 2018 gave a speech in which he waxed poetic. "Just imagine, no wall," he said. "No wall in southern Arizona."
He was never heard from politically again.
No debate:Lake to appear for solo interview as Hobbs skips event
"We will not engage in a circus that insults and embarrasses Arizonans," her spokesman Joe Wolf has said. "We do not need to look further than the last debate Kari Lake participated in for such an example."
But that Republican primary debate was a four-way clown free-for-all. This is two candidates, each asking to govern a state of more than seven million people for the next four years. Voters have a right to see them, side by side.
The fat lady has not sung yet, folks.